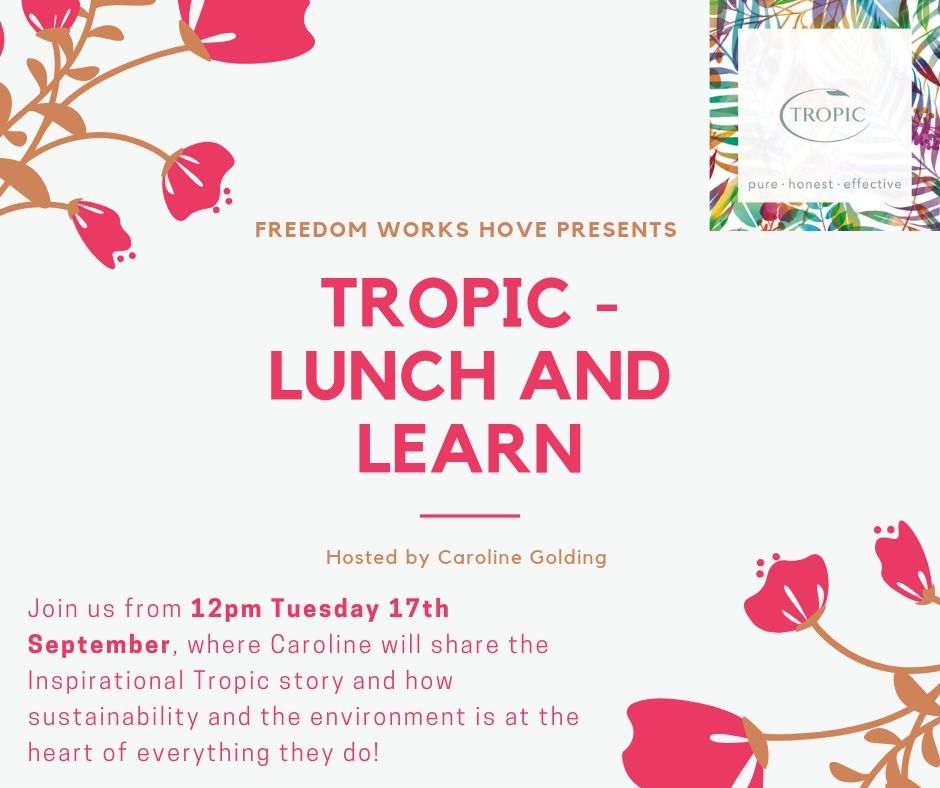 We are thrilled to invite you to join Caroline Golding to Freedom Works Hove as she introduces her Lunch and Learn discovery session with Tropic Skincare.

Caroline will share the inspirational Tropic story and the Tropic range of multi-award winning, natural, 100%
cruelty free and vegan beauty products with us.

Tropic Founder, Susie Ma, has the most inspirational story behind her success which started following her
appearance on TV's The Apprentice in 2011. The business launched in 2013 with Lord Sugar as a 50%
stakeholder in the business and has gone on to become the UK's fastest growing beauty range as voted by the
Sunday Times, Virgin Atlantic Airways, Fast-track 100 for the last 3 years. Tropic has received over 130 awards
from beauty editors, cruelty free and vegan organisations, environmental and business organisations.
The Environment is at the heart of everything Tropic does and the business is one of only 300 global
organisations certified carbon neutral.

Tropic Skin care is a UK based range of skin care, hair care, sun care, body care and make up. The ingredients
are all sustainably sourced from the most nutritious plants, fruits, nuts and seed extracts and all made freshly
every day in our Surrey Beauty Kitchen.
During the event you will have the opportunity to experience the range of beautiful products for yourself and find
out more about how premium quality natural products can help with the health of your skin and of our delicate
environment.

Intrigued? Join us on Tuesday 17th September from 12pm onwards at Freedom Works Hove.
Want to Contact Caroline?

Caroline Golding
07305041063
[email protected]