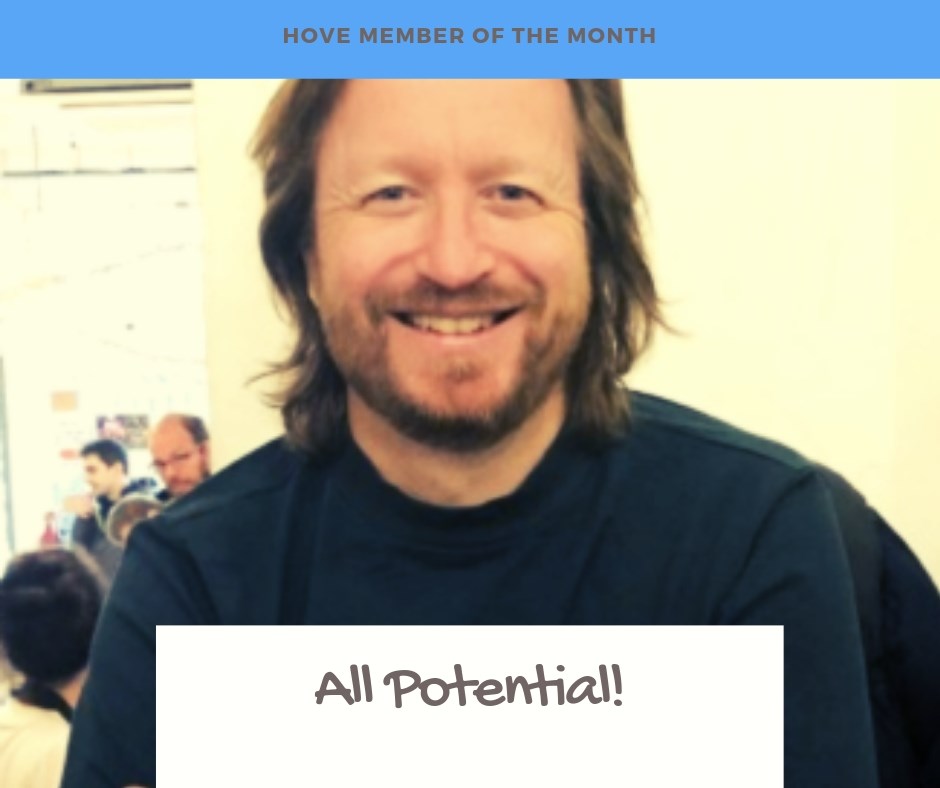 All Potential!
David Evans from All Potential joined Freedom Works almost one year ago so we thought this would be a great opportunity to catch up with him and see how he has been getting on in the Hove space! David was kind enough to answer questions about his business, working at Freedom Works and a couple about himself as well!
Getting To Know All Potential
All Potential is about equipping teams and organisations to be at their best by creating team and organisational cultures and practices that serve and fulfil their purpose, and access their all potential - creativity, fun, joy, whilst creating value. David's customers are any team or organisation that wants to evolve, change and grow into their full potential, he works with a range of clients including the NHS innovation teams, Tech Start-ups, global corporates, Universities, HM Prison Service, social enterpises and worker's cooperatives and independent-SMEs. David has been running a coaching practice for 14 years, and full time for just over 8 years and would say that the bespoke nature of his programmes are All Potential's unique selling point. Each client is unique, and each coaching programme is unique. David creates a bespoke coaching programme for clients to unlock their aspirations into practical steps in the workplace.
Working In A Co Working Community
David chose to work in a co working community because he is a freelancer and although he works with other organisations as an associate coach and gets social interactions when working, he also enjoys the social interaction of working in an office. Working in a co working community gives him that place for social interaction, and also separates his work-life from his home-life. One of the most important benefit to David of working from Freedom Works is it's easy and effortless to work here and the people are lovely! He loves the atmosphere and culture in the Hove space and its really convenvenient and easy to get here too! David has been pleasantly surprised by this, given that it is the first time he has worked in a co working space.
Getting To Know David
David has many proud achievements and, children aside, his proudest would be running his first ever event running race making his PB at the Brighton 10 mile as part of his training for the Brighton Marathon 2019, he was well chuffed with his time! He takes his inspiration from people, their willingness to grow, change and transform he finds truly magical. He is also inspired by nature, he loves how nature is constantly changing and is always beautiful. He also gets a lot of inspiration from running along the sea front and catching a sunrise, in his own words, 'awesome'. As well as working in Hove, David also lives here. He loves the culture as it's relaxed, and giving, yet purposeful with lots of diversity and creativity, he just loves it!. His favourite hangout is the Small Batch Coffee shops with a good book and coffee, but equally loves hanging out at home as well! If he had to pick one favourite place in Hove it would have to be the beach especially on an early morning run!